Macmillan's Coffee Morning is the biggest fundraising event organised by Macmillan Cancer Support to offer much-needed support to people living with cancer. Every year, people all over the United Kingdom host their own Coffee Morning either on the official date for Coffee Morning or on a date convenient to them after which donations raised are made to Macmillan.
As part of our social responsibility as a Church and in line with our "Church Without Walls" agenda which seeks to reach out and impact the lives of people in and around the communities where we are located, the Women of Faith which is the Women's Ministry of City of Faith Ministry, organised a Macmillan Coffee Morning on Sunday, 29th September 2019.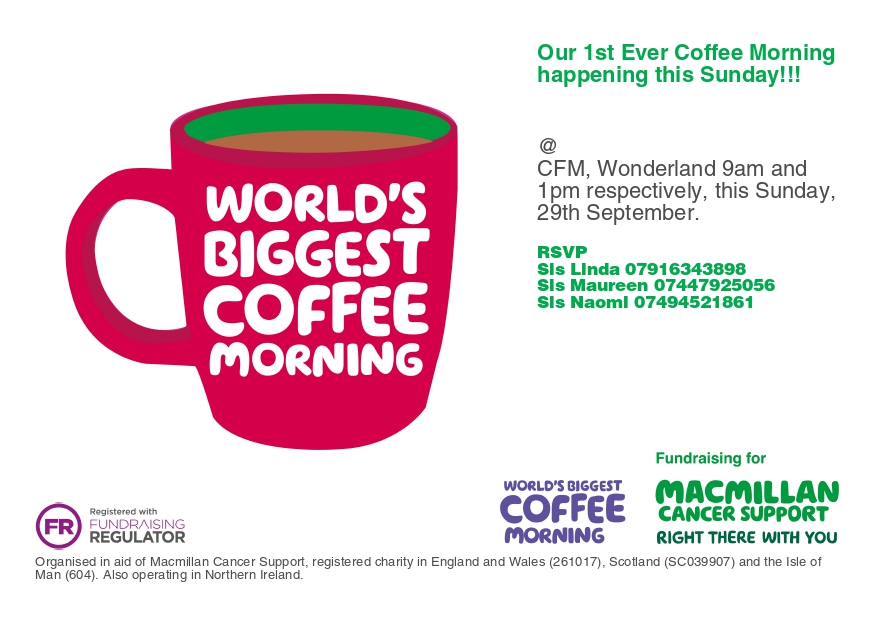 This was the first time such an event was organised by the Church which saw a huge patronage from members of the Church and even people in the community in memory of loved ones lost to cancer and to support the ongoing research efforts in the race against cancer. At the end of the Coffee Morning almost £200 was raised which was donated to Macmillan. 
Since the 2019 event, we have been unable to run another Coffee Morning due to the Covid-19 pandemic however, we are looking forward to being able to host this again in September 2022 as we take the "Church Without Walls" mandate further.